Most schools have a dual credit program. But due to lack of course selection, faculty bandwidth, or issues getting to and from the school, many schools can only offer a handful of options to students.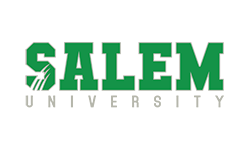 Our credit-granting partners are making it easier to offer a variety of dual credit options for high schools, including an Associate Degree.
Salem University is our latest credit-granting partner to offer a flexible and affordable associate degree using TEL courses. The associate degree is part of the Collegiate Academy Experience available to high schools that partner with Salem University and TEL Education. The Collegiate Academy Experience includes individual dual credit courses, course bundles, the +1 Program for a year's worth of college credit, and the associate degree.
An Affordable Start
Associate degree pathways through TEL and our partners are remarkable in a few ways, but the most obvious is the cost. At $67 per credit hour or $4,000 for the full degree program, students save thousands of dollars on their college degrees. The average four-year university charges $300 per credit hour for in-state students.
In addition to the savings, Salem is also offering scholarships for students who continue their education with the University. Any student who completes a single dual credit course receives automatic admission to the university. For every 12 hours of dual credit a student completes, they are eligible for a $500 scholarship. So for those who successfully complete the associate degree, they will receive an associate degree for $4,000 and a $2,000 scholarship towards their bachelor's degree.
An Educational Foundation
Salem University and TEL started their partnership in 2021 and immediately the university saw the potential with an associate degree. They took a few months to make sure all the pieces fit together, and this spring launched their associate degree using TEL courses. The Associate of Arts in Multidisciplinary Studies from Salem University establishes a foundation that students can continue to build on no matter what their goals are.
Students will take a variety of general education courses, including Language and Composition and Introduction to Communication to create solid writing and presentation skills. College Algebra and Introduction to Biology help students understand the building blocks of the world around them.
This Associate of Arts degree is different from our other partners with its focus on business courses. Salem's AA degree also requires students to take Introduction to Business & Entrepreneurship, Microeconomics, and Introduction to Information Technology so students have the information they need to evolve with the changing career demands.
Salem is a regionally accredited university accredited by the Higher Learning Commission, so students who earn an associate degree from Salem can use it to transfer to most schools and start college as a junior.
A Partnership For Flexibility and Support
One of the reasons Salem was excited about partnering with TEL for general dual credit in West Virginia was because of TEL's focus on student success. The focus is just as important for students taking an associate degree. Using TEL's courses, the Associate of Arts from Salem University offers students asynchronous, self-paced learning with layered support.
Students have the flexibility to work when they will be most successful. Schools can offer these courses as in-person facilitated, fully online, or as a hybrid. But students aren't bound by specific test dates, so students can move faster or slower during certain periods of the class if they have more time or more responsibilities.
Because this is likely to be some of the first college-level courses students take, the Associate Degree courses also feature layers of support to help with content questions and time management skills. TEL provides a sequence guide to help counselors and students navigate through the 60 credit hours needed to complete the degree program.
A Plan For An Associate Degree In High School
This partnership with Salem University marks the third associate degree pathway for students who want to earn an associate degree in high school. Salem's Associate of Arts in Multidisciplinary Studies joins York College's Associate of Science and Oklahoma Christian's Associate of Arts degree in using TEL Education's online courses.
To learn more about bringing the Collegiate Academy Experience, including an Associate Degree with Salem University, to your school, check out our guide or send us a message through our contact form.
​