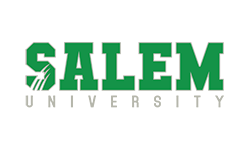 NORMAN, OK, October 11, 2021 — Salem University announced its partnership with TEL Education, a non-profit curriculum and educational technology organization, to provide innovative and affordable online dual-credit courses to West Virginia high school students.
Through the partnership, TEL will provide its catalog of mastery-based, online general education course materials and work with Salem University administration and faculty to customize TEL content to align with the university's specific academic and program goals. With this expanded catalog, high school students in West Virginia and across the country can access affordable dual credit and experience Salem University's commitment to innovation.
"Salem strives to ensure students have access to high-quality education," stated Dr. Karen Ferguson, Provost and VP. "This partnership provides us with a unique opportunity to serve the state of West Virginia's Climb and I look forward to serving the needs of today's WV high schoolers who aspire to earn a university credential."
According to TEL Executive Director, Dr. Rob Reynolds, this partnership with Salem University is an important part of TEL's mission to make college-level learning accessible to everyone in the U.S.
"Salem University shares TEL's commitment to ensuring that students everywhere, regardless of their circumstances, have access to high quality and affordable college learning," said Reynolds. "Because of that commitment, I know that our two organizations can make a big difference in West Virginia, and the entire Appalachian region."
The partnership will help Salem University provide an online learning experience that is consistent with the university's focus on helping students acquire the knowledge, skills, and understanding they need to thrive in the 21st century. TEL's Mastery Assignments are aligned to specific skills and competencies, such as critical thinking, communication, and writing, that students will need to be successful in today's world. Students who take advantage of this partnership will be able to see their progress toward these skills on TEL's Student Learning Dashboard, which helps make learning visible to students.
ABOUT TEL EDUCATION
TEL Education is a non-profit organization committed to facilitating equitable access to high-quality, affordable learning in the U.S. TEL offers its library of general education courses to high schools, colleges and universities, and homeschool parents and organizations. As part of its mission to support affordable life-learning, TEL also maintains a free reference library and offers low-cost certificate courses. For more information, please visit http://www.tel-education.org.
ABOUT SALEM UNIVERSITY
Established in 1888 as Salem College, Salem University has a tradition of academic excellence and innovation. The beautiful 100-acre campus is nestled in the Appalachian mountains of West Virginia. The campus offers student housing and traditional campus clubs and activities. Salem offers doctorate, education specialist, post-master's certificates, master's, bachelor's and associate's degree programs in a wide array of subject areas and specializations online and on campus. For more information, please visit www.salemu.edu.
​